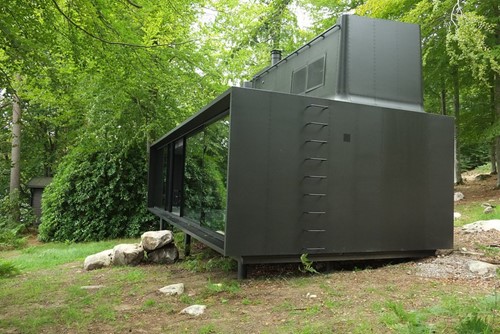 Prefabricated homes come with many advantages. They require less time and less labor than traditional building process and still allow you to own your own home with a much smaller budget. Sustainability is another key factor discussed among builders and buyers alike. Builders promote prefabricated homes as being eco-friendly and efficient options for homeowners, but it isn't always clear exactly how they fit that criteria. Here we will go over some key reasons that prefab homes can be more sustainable than other homes.
Less Waste
Prefabricated homes are extremely resource-efficient when compared to traditional construction. The various pieces of a prefab home are built in factories rather than assembled at the build site, typically using modern assembly-line processes. Specialized technicians and craftspeople oversee and manage the construction in a quality-controlled environment. Everything built in these facilities is subject to strict manufacturing codes and guidelines to ensure the best possible quality and safety. This means less waste from damaged or unused materials because of production errors or transportation issues. Putting the structures together on the foundation also requires very little additional resource usage when compared to traditional building techniques that require extensive temporary support structures.
Prefab homes can reduce waste of material but also waste of time. One of the most attractive features of a prefab home is how quickly it can be assembled—sometimes within a single week. Even though the parts need to be delivered to the building site, a single entity and team of professionals coordinate every part of the process. There are fewer risks related to labor issues, transportation delays and other logistical time-wasters. They spend less time building the house and more time on perfecting the production techniques and efficiency.
Energy Efficient
Prefab homes are energy efficient for several reasons. The uniformity and efficiency of the manufacturing and building processes means better quality control over things like insulation and weather sealing. Building seams are tight and secure because they build the components to be the correct size and shape every time. When connected to an electrical grid, a prefab home will help you save money on heating and cooling by keeping the indoor environment indoors. Modern insulation and windows are included standard and low-energy lighting is a common upgrade option. Some homes are even self-sufficient and use state-of-the-art solar panels which can allow you to live "off the grid" in some situations.
The house itself is not the only energy-efficient aspect to prefab home building. The streamlined nature of the process—from manufacturing facility to your foundation—reduces emissions and resource consumption by cutting down the required transportation. Builders do not have to ship materials all over the continent or overseas in order to build your home. Quicker construction means fewer trips back and forth for the crew. These factors combine for a low carbon footprint when compared to traditional building methods.
Sustainable Materials
Finally, it's very common for prefabricated homes to use sustainable building materials. Builders have more options than ever for recycled and environmentally friendly materials for every part of the build. These materials include things like sustainably harvested wood, recycled stone tile, bamboo and even walls made of mostly recycled paper. Paint and other products free of VOCs, or Volatile Organic Compounds, cause less air pollution and help maintain a healthier environment.
All these reasons and more make prefab homes an excellent choice for somebody wanting to make eco-friendly decisions. If you're looking to build a house with sustainability as your top priority, consider going for a prefab home.